Office Cleaning Los Angeles
Personalized Cleaning Service
In Los Angeles, image is everything. Your office is the heart of your business. It represents the hard work you've invested to keep your customers and employees satisfied. We understand that every office is different. Not every client has the same needs and we tailor our cleaning packages to meet those needs. We are just as particular as you are. We're here to listen.
Are you a green company that prefers eco-friendly cleaning products? Are there off-limits areas or equipment in the building? We understand. From our cleaning products to our cleaning methods, we are here to tailor our services to you. That's why we'll start our first session walking through the office with you. We will customize our cleaning regimen until you're comfortable. One consultation is all we need to clean right the first time, every time.
Experience
We all know that good help is hard to find. We pride ourselves on being the good help that you've been looking for. Our company has been in business for well over 10 years. During that decade we have helped hundreds of clients become satisfied customers. Making customers happy is how we've built the experience that makes us a Los Angeles industry standard.
What does that experience mean? We have experience with every type of office, surface and schedule. That experience means quick, efficient cleaning. We know that that is what our customers want. They choose us because we have the experience to be reliable. We're not a fly by night maid service. We build relationships with our customers for years. They come to depend on us and recommend us to their colleagues that are looking for that same dependability. And that experience means that we have plenty of references from those customers.
More Free Time for You
We're here so you can spend your time focused on your business. We're here to give you one less thing to think about. No time to itemize a list of what you need done? We can take care of that for you. We don't just do a little dusting and call it "clean". We have a number of cleaning packages from budget to deluxe. Each cleaning package itemizes each point of service. Just point to the package you want and we'll take care of the rest.
After all, if you had time to waste on cleaning, we would be out of business. We know that we are a cleaning service as well as a time saver. You don't have to keep our cleaning schedule on your mind. We offer our cleaning services as necessary. We can be there daily, bi-weekly, weekly or monthly. Just set your schedule during your initial consultation and put us out of your mind to focus on your business operation.
Cleaners You Can Trust
Choosing a cleaning company is a big decision and we know that. We don't just clean, we build relationships. We know that when you hire us, you're looking for a little peace of mind. We're here to make your life easier and we want you to continue to allow us to do so.
Every one of our employees is carefully selected and screened before they are welcome to work for us and clean your office. It's important that we believe in who we hire as much as you believe in us. To further build that trust, we're fully insured which means the insurance company believes in us too. Just ask one of our representatives and we'll fax over our proof of insurance.
Flexible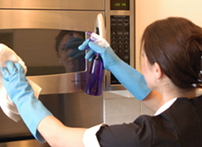 Your business is a busy place. We understand that not everyone's work schedule is from nine to five. We take varying work schedules in to account. Thanks to our rock-solid reputation we have the employees on hand to accommodate your schedule no matter when it is.
Our hours are as flexible as yours are. We understand that schedules change, inventories happen and needs are variable. Things come up. When you hire us you're not locked in to any day of the week. We want you to know that we're always listening. Our calendar is open to you and we will be there when you need us. Just let us know. We offer same day and emergency service as you need it. Laundry is the only thing we'll leave hanging out to dry.